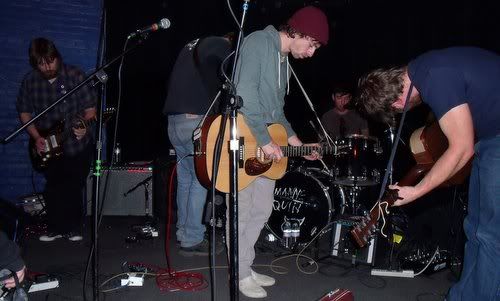 Its crazy to think we're rounding the bend on TWELVE years of Robo-label activity, but our first release (the
PG.99 / REACTOR NO. 7
split 7") dropped in April of 1999. It suffices to say, this label wouldn't even exist if it weren't for the Taylor brothers, their friends, and all the bands they've been a part of over the years. There's something in the water in Sterling, Virginia and we feel genuinely honored to have been a small element of these dudes' musical output over the (many) years.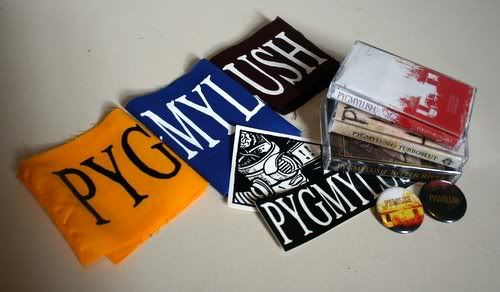 Now that their current/most active band
PYGMY LUSH
is thankfully
touring
again, we decided to help stack out our old friends' merch table with a plethora of goods to peddle. As a result we now have the same items available in our
Online Store
, although we officially and
fully
encourage you to pick up stuff
direct from the band on tour with DES ARK
whenever possible.
The goods we've stocked them with this time include a re-press of their first album,
Bitter River
, on cassette along with two more tapes: the fantastic split with
TURBOSLUT
(originally released on LP by Exotic Fever) and a new two-song "cassingle" on
Cold World / Guilt
, two super mellow cuts that didn't quite fit on their new album
Old Friends
(released on Lovitt, who's also issuing a 2-song 7" of the cassingle songs). Soul-crushingly good tunes here.

Along with all that, they/we've got stickers, oversized buttons (1.5"), patches galore and a plethora of t-shirts both new and old. We're trying out bundle packs for the first time too, so you can either get the individual tapes separately, all together and we'll throw in a sizable pile of merch (buttons+patch+sticker), or you can just grab a merch bundle on its own. Three new t-shirts were printed too, the "Cold World" image expanded, plus white and black versions of the "Mount Hope" Ashburn House album design. We kinda went bonkers here, but it is a pretty
lengthy tour
too! If you're not gonna see them, or foolishly spend all your cash on booze or something, check out the
Robotic Empire - Online Store
to pick up some of this awesome stuff.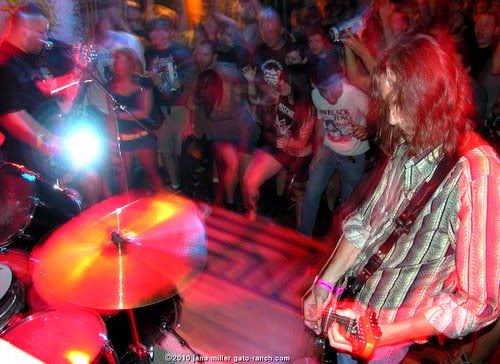 Another band we're EXTREMELY happy to announce is
hitting the road
is
FLOOR
!! Inspired by their reunion shows last year, the reignited trio is legitimately
touring
for the first time in like 9 years or so! Intense!!
In order to make sure they've got substantial music to sell (and since we're getting down to the last copies of the
deluxe vinyl box set discography
), we re-pressed the 8xCD standalone edition of their expansive
Below & Beyond
discography! Ideally you'll pick this up
direct from the band on tour
, but if not you can grab it now in the
Robotic Empire - Online Store
. This mamma jamma includes all 99(!) songs spread across 8 discs and includes the massive 32-page 12"x12" booklet with hella photos, lyrics, back-story....everything. We just re-upped on the awesome
Sight & Seen
FLOOR
2xDVD too! Czech it out in the
Robotic Empire - Online Store
if you can't catch them live.
In further "touring band news",
MAGRUDERGRIND
is
playing shows
in various parts of the world this year, and they just sent us a stack of their FREE
Crusher
10" released by Scion(WTF). Yep, debate it any way ya want... regardless, we're giving away copies of this appropriately monikered EP to folks who order the new "Facemelter" t-shirt we printed up last month. Totally badass 4-color design with all kinda trippy junx going on, this is available now in the
Robotic Empire - Online Store
. FREE 10" included until we run out of em.... word!
We also have a pretty stacked distro update with over 30 new items and 50+ restocks. New stuff from
AKIMBO
(latest album finally imported on vinyl, with CD),
AMATEUR PARTY
(featuring Atom!),
HEIRS
new one along with other Denovali elaborateness,
INTEGRITY
and other A389 bludgeoners,
PYGMY LUSH
GALORE,
SINE NOMINE
back from the grave with a self released CD, Init stuff and more.
Restocks include the bulk of the remaining Shock Value catalog (
ED GEIN, JOSHUA FIT FOR BATTLE
, etc),
BLACK TUSK
and
COUGH
bangers from Relapse (vinyl for both blew out last time),
CELESTE
2xLPs and other awesome imports,
FLOOR
essentials,
DAITRO
10"s,
KIDCRASH, MELT BANANA
and other killer Init releases, mo' bruisers from A389, two favorite
PG99
and
PYGMYLUSH
shirts re-printed,
ROSETTA, PULLING TEETH, TOWERS, ULTRA DOLPHINS
and a bunch more! Here're the full lists:
NEW ITEMS:
* Akimbo - Jersey Shores - COLORED VINYL 12"+CD (Red Cobalt Industries) $21.99
* Amateur Party - Truncheons in the Manor 12" (Rorschach) $11.99
* Austrasian Goat, The - Stains Of Resignation 2x12" (Music Fear Satan) $19.99
* Buyer's Remorse - Thorough Analysis - CLEAR COLORED VINYL 7" (Commodity Fetish) $4.99
* Heirs - Fowl 12" (Denovali) $4.99
* Her Name Is Calla - Long Grass 10"+CD (Denovali) $14.99
* Integrity / Creepout - Split - COLORED VINYL 7" (A389) $4.99
* Iroha - Self-Titled 2x12" (Denovali) $19.99
* Mighty Sphincter - Resurrection - COLORED VINYL 7" (A389) $4.99
* Northless - Clandestine Abuse - ORANGE COLORED VINYL 2x12" (Halo Of Flies) $19.99
* Pygmy Lush / Turboslut - Split Cassette (Robotic Empire) $4.99
* Pygmy Lush - Bitter River (repress) Cassette (Robotic Empire) $4.99
* Pygmy Lush - Cold World / Guilt Cassette (Robotic Empire) $3.99
* Pygmy Lush - Cold World - Size: DOUBLE EXTRA LARGE T-Shirt (Robotic Empire) $14.99
* Pygmy Lush - Cold World - Size: EXTRA LARGE T-Shirt (Robotic Empire) $14.99
* Pygmy Lush - Cold World - Size: LARGE T-Shirt (Robotic Empire) $14.99
* Pygmy Lush - Cold World - Size: MEDIUM T-Shirt (Robotic Empire) $14.99
* Pygmy Lush - Cold World - Size: SMALL T-Shirt (Robotic Empire) $14.99
* Pygmy Lush - Cold World - Size: YOUTH LARGE T-Shirt (Robotic Empire) $14.99
* Pygmy Lush - Mount Hope [BLACK] - Size: EXTRA LARGE T-Shirt (Robotic Empire) $14.99
* Pygmy Lush - Mount Hope [BLACK] - Size: LARGE T-Shirt (Robotic Empire) $14.99
* Pygmy Lush - Mount Hope [BLACK] - Size: MEDIUM T-Shirt (Robotic Empire) $14.99
* Pygmy Lush - Mount Hope [BLACK] - Size: SMALL T-Shirt (Robotic Empire) $14.99
* Pygmy Lush - Mount Hope [WHITE] - Size: EXTRA LARGE T-Shirt (Robotic Empire) $14.99
* Pygmy Lush - Mount Hope [WHITE] - Size: LARGE T-Shirt (Robotic Empire) $14.99
* Pygmy Lush - Mount Hope [WHITE] - Size: MEDIUM T-Shirt (Robotic Empire) $14.99
* Pygmy Lush - Mount Hope [WHITE] - Size: SMALL T-Shirt (Robotic Empire) $14.99
* Pygmy Lush - Mucho Merch (Buttons+Patch+Sticker) Bundle (Robotic Empire) $2.99
* Pygmy Lush - Triple Cassette + Mucho Merch Bundle (Robotic Empire) $13.99
* Roses Never Fade - Fade To Black 12" (A389) $10.99
* Seven Sisters Of Sleep - Self-Titled 12" (A389) $10.99
* Sine Nomine - Self-Titled CD (Self Released) $7.99
* Sugartown Cabaret - Beyond Foams CD (Init) $7.99
RESTOCKS:
* Assailant, The - Nurse 7" - PICTURE DISC (Init) $5.99
* Black Tusk - Taste The Sin 12" - GREY COLORED VINYL (Relapse) $9.99
* Blueneck - Scars Of The Midwest 12" (Denovali) $9.99
* Caught In The Fall - Self-Titled 11" - COLORED VINYL (Shock Value) $7.99
* Celeste - Morte(s) Nee(s) 2x12" - BLACK WITH SCREENPRINT VINYL (Denovali) $24.99
* Celeste - Morte(s) Nee(s) 2x12" - CLEAR WITH HAZE COLORED VINYL (Denovali) $24.99
* Cough - Ritual Abuse 2x12" - RED COLORED VINYL (Relapse) $19.99
* Crevecoeur - #1+#2 2x12" - WHITE PINK COLORED VINYL (Denovali) $23.99
* Daitro - Cendresdes Cendres, Je Me Consume 10" - CLEAR COLORED VINYL (Music Fear Satan) $15.99
* Ed Gein - It's A Shame... 12" - BLUE GREEN SPLATTER VINYL (Shock Value) $12.99
* Ed Gein - It's A Shame... 12" - GREY BROWN COLORED VINYL (Shock Value) $12.99
* Ed Gein - It's A Shame... 12" - RED COLORED VINYL (Shock Value) $12.99
* Ed Gein - Judas Goats and Dieseleaters 12" - BROWN/CLEAR VINYL (HexRecords) $9.99
* Ed Gein - Judas Goats and Dieseleaters 12" - RED/CLEAR VINYL (HexRecords) $9.99
* Floor - Below & Beyond 8xCD Set (Robotic Empire) $39.99
* Floor - Sight & Seen Live 2xDVD (Chunklet) $19.99
* Gray Ghost - Succubus 7" - COLORED VINYL (A389) $4.99
* Heirs - Alchera 12" (Denovali) $15.99
* Integrity - To Die For 10" (A389) $11.99
* Joshua Fit For Battle - To Bring Our Own End 12" - GOLD COLORED VINYL (Shock Value) $12.99
* Joshua Fit For Battle - To Bring Our Own End 12" - WHITE YELLOW (Shock Value) $11.99
* Kidcrash - Snacks 12" - RED COLORED VINYL (Init) $14.99
* Kidcrash - Snacks 12" - YELLOW COLORED VINYL (Init) $14.99
* Kidcrash - Snacks CD (Init) $8.99
* Melt Banana - Initial 7" (Init) $5.99
* My Disco - Paradise 12" (Fruits & Vegetables) $10.99
* Oak - II 12" (A389) $10.99
* Pageninetynine - Girl w/ Heart T-Shirt - Size: DOUBLE EXTRA LARGE (Robotic Empire) $15.99
* Pageninetynine - Girl w/ Heart T-Shirt - Size: EXTRA LARGE (Robotic Empire) $14.99
* Pageninetynine - Girl w/ Heart T-Shirt - Size: LARGE (Robotic Empire) $14.99
* Pageninetynine - Girl w/ Heart T-Shirt - Size: MEDIUM (Robotic Empire) $14.99
* Pageninetynine - Girl w/ Heart T-Shirt - Size: SMALL (Robotic Empire) $14.99
* Pageninetynine - Girl w/ Heart T-Shirt - Size: YOUTH LARGE (Robotic Empire) $14.99
* Pageninetynine - Owl T-Shirt - Size: DOUBLE EXTRA LARGE (Robotic Empire) $15.99
* Pageninetynine - Owl T-Shirt - Size: EXTRA LARGE (Robotic Empire) $14.99
* Pageninetynine - Owl T-Shirt - Size: LARGE (Robotic Empire) $14.99
* Pageninetynine - Owl T-Shirt - Size: MEDIUM (Robotic Empire) $14.99
* Pageninetynine - Owl T-Shirt - Size: SMALL (Robotic Empire) $14.99
* Pageninetynine - Owl T-Shirt - Size: YOUTH LARGE (Robotic Empire) $14.99
* Pulling Teeth / Shin To Shin - Split 7" (A389) $4.99
* Pygmy Lush - Bitter River (repress) Cassette (Robotic Empire) $4.99
* Pygmy Lush - Man On The Moon T-Shirt - Size: DOUBLE EXTRA LARGE (Robotic Empire) $10.99
* Pygmy Lush - Man On The Moon T-Shirt - Size: EXTRA LARGE (Robotic Empire) $10.99
* Pygmy Lush - Man On The Moon T-Shirt - Size: LARGE (Robotic Empire) $10.99
* Pygmy Lush - Man On The Moon T-Shirt - Size: MEDIUM (Robotic Empire) $12.99
* Pygmy Lush - Man On The Moon T-Shirt - Size: SMALL (Robotic Empire) $12.99
* Pygmy Lush - Man On The Moon T-Shirt - Size: YOUTH LARGE (Robotic Empire) $10.99
* Ringworm - The Promise 12" (A389) $10.99
* Rosetta - The Galilean Satellites Disc 1 2x12" - BLACK VINYL (E-Vinyl) $19.99
* Rosetta - The Galilean Satellites Disc 2 2x12" - YELLOW COLORED VINYL (E-Vinyl) $19.99
* Rot In Hell - Hallways Of The Always 12" - BLACK AND WHITE COLORED VINYL (A389) $10.99
* Seraphim - Self-Titled 7" - COLORED VINYL (A389) $4.99
* Towers - Full Circle 12" (Init) $11.99
* Towers - Full Circle CD (Init) $8.99
* Ultra Dolphins - Alien Baby 12" - GLOW IN THE DARK COLORED VINYL (Rorschach) $11.99
YES! This turned into a pretty damn big update, even after the
last insanely MASSIVE one
less than a month ago! Thanks for checking out this stuff, and/or going to see our friends on tour! Peeaace,
-
Robotic Empire - Online Store
Robotic Empire's Twitter
Robotic Empire on Myspace
Robotic Empire on Facebook
Robotic Empire's email list
Robotic Empire's news blog/archive
Robotic Obscurities free audio archive
Robotic Empire's youtube channel
Robotic Empire Wholesale
Robotic Empire's main website
Robotic Empire at Sound Cloud