...wake up wake up wake up, its the first of the month...
OK folks its getting a little serious here. We're less than two weeks from concluding the
BONE THUGS-N-HARMONY
kickstarter campaign
with quite a ways to go financially. If we want to see this thing happen (and obviously we do), a lot of pre-orders need to come through with the quickness!
The general reaction to the announcement of this seemed to be confusion overall, but let it be known that this project is genuine and awesome. The "For Smokers Only" collection not only rules from a logistical standpoint, but musically its also excellent!
Most of the 12 tracks found on the album are from "prime era"
BONE THUGS
and the quality shows. We're doing our best to make this thing happen, but without some real pledges and word-of-mouth, we'll be both high
AND
dry in two weeks time.
Please consider this an "elaborate pre-order" that you won't get charged for until the full goal amount is reached.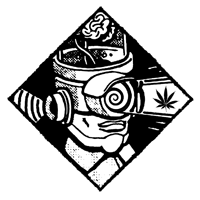 Speaking of elaborate, we've done some major contemplation on what our first-ever slipmat printing should be like... and in an attempt to go MEGA we're gonna try to pull of an faux-animated "zoetrope" type slipmat. Essentially, something
like this
, but obviously a lot stonier.
Beyond that we've got a lot of cool stuff in the "DIE HARD" deluxe vinyl edition as well as standard LP and CD options for folks looking for something a little simpler.
Please hit up the
BONE THUGS kickstarter page
and pledge a few
bones
bucks if ya can!
PEACE!